How do I setup my email for Windows Mail?
Setting up Mail App Windows 8
If you have a Windows 8 device, you can use the Mail app to view all your emails, even if using multiple accounts. Here'ss how:
Step 1: Launching the Mail App
Begin by opening the Start menu. Then tap (or click) on the Mail app.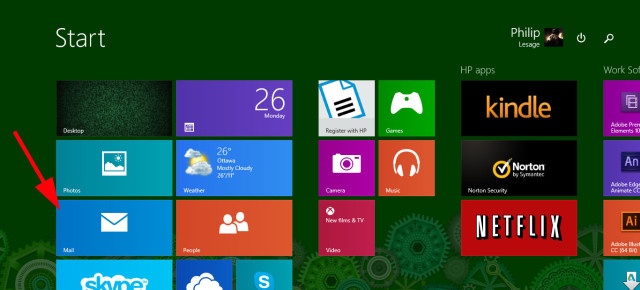 Tip(s):
If you are having trouble finding the Mail app, you can type the word "mail" while in the Start menu and search results will appear on the right side.
If you already have a Microsoft email account (hotmail.com, live.com, msn.com, outlook.com) and have already used it on your Windows 8 device (without the Mail app), your Mail app is probably already connected to your email. If not, continue to step 2.
Step 2: Sign In
The app will ask you to sign in using your Microsoft email account. You can only sign in using a Microsoft account. (hotmail.com, live.com, msn.com, outlook.com) If you don't have one, you can create one at outlook.com.
Step 3: Adding and Removing Accounts
To add an account, swipe left from the right edge of the screen (or bring your cursor to the bottom right corner of the screen and then move it up). This will open a menu.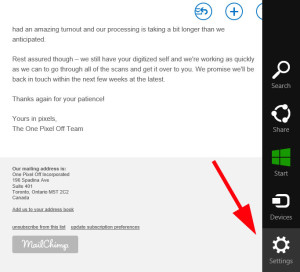 Go to Settings and select Accounts then Add an account.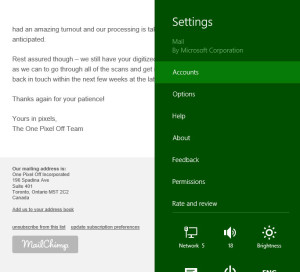 You will now see a list of options to which you may already have an account. If you are using one of the listed services you may add the account by selecting the service and then log in with your credentials. You account is now connected!
In this case however will we be adding a Pattern Hosting account. Select Other account, select IMAP (You will likely always want to use IMAP).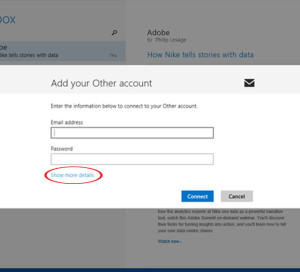 Now you will want to Show more features. Here there is 2 important fields you will need fill out – aside from your user credential – the incoming and outgoing email server. For Pattern Hosting the both fields are mail.manlab.com. The incoming port should be 995 and the outgoing port should be 465. Once you have entered this and your credentials of your email account tap (or click) connect. That's it! Your accounts are now connected to the mail app for you to see the latest emails of these accounts.